Part Garrison Keillor, part Victor Borge, but mostly Franz Liszt, Christopher Finkelmeyer delights audiences with his thoughtful, funny, and poignant observations about life in the 21st century while at the same time bringing the master's hand to some of the world's greatest music.
From an early age Finkelmeyer sought out the best teachers he could find; and he found them at Northwestern University, the Juilliard School and Vienna's famed Hochschule für Musik.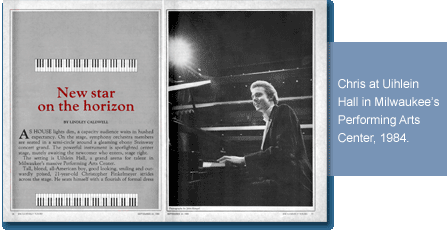 Thus armed with 200 years of tradition and a musical heritage that can be traced back to Beethoven himself, when Finkelmeyer approaches the stage it's with a confident mastery that is quite frankly thrilling.
A 'genuine thoroughbred' as the Italian critics hailed him, he plays the great
classics of the piano literature with what America's elder statesman of the piano, and Grammy award-winner Earl Wild calls "astonishing technical resources and impeccable musicianship".
But Finkelmeyer is the first to proclaim his impressive training gives him no leg up in day to day interactions. In point of fact, therein lie the bases of the many stories he tells in his concerts. He's quick to point out there's no school you can attend to keep up with the 21st century.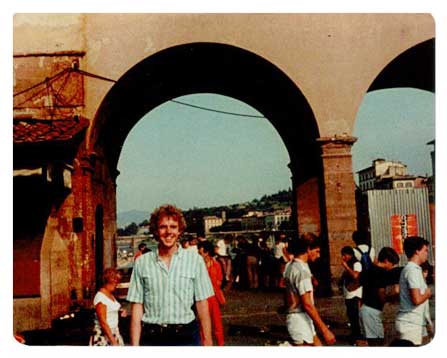 Chris in Italy, 1985

No Beethoven Sonata however well played is going to get your money out of an ornery ATM any faster. And no matter how well you've mastered the intricacies of Liszt's 'Dante Sonata', it won't make figuring out the best deals for your cable TV or long distance any easier.
When he shares his bumbling encounters with these and other kinds of everyday provocations his audiences experience an immediate feeling of camaraderie for a fellow traveler and a rich, unique bond erupts - simultaneously hilarious, moving and unquestionably beautiful.
Read more about Chris in the following excerpts from various newspaper interviews.


---

Q. Where did you grow up, and how did that childhood affect you musically?
A. I grew up in a small town in Wisconsin. It was a great place to grow up. Like most small communities there were plenty of opportunities for performing and getting experience on stage, and I tried to take advantage of all the opportunities.
I never had to deal with the negative things one often hears about when a kid is more interested in playing the piano than playing football. Everyone seemed to think it was pretty cool that I played the piano. Although, I was also involved in some sports. I played basketball in junior high and I have the distinct honor of being called 'the best player on the worst team the coach had ever seen'. (That's one of those stories my Dad waited to tell me until I was much older… I still get a chuckle out of that!)




Q. Your life in piano began at an early age. What propelled you in that direction? At eight most kids are dreaming of being guys like Babe Ruth or Walter Payton. What made you dream of guys like Rachmaninoff and Beethoven?
A. I began taking lessons at 5. I was actually one of those kids who begged his parents for lessons. The first teacher we went to said I was too young, so my Mom taught me for the first year.
But to be honest, I'm not sure I was so much focused at that age on the great composers. I kind of found a lot of that music boring then. But I was fascinated by the instrument… the piano itself. I thought it was an amazing thing. It's basically just a bunch of wood and some strings, and yet it's amazing what it can do, and the sounds it can create. It's an entire orchestra of sounds and colors! That's what really attracted me from the beginning.
My love of the great composers is something that happened as I continued to grow as a musician and in my studies. As my studies became more intense and I wanted to become a better pianist I was introduced to all the greats of the past (like Rachmaninoff and Beethoven), and once you get exposed to these great giants you start realizing how truly amazing what they wrote really is. Of course, then you want to continue to grow as a pianist so you can recreate that music of the past and share it with audiences today.




Q. Explain your 'Unstuffed' concept. Your performances have the reputation for breaking down the uptight images associated with sitting at a classical piano performance. What inspired you to break away from that image?
A. Precisely what I came to know and love about this great music. The music is wonderful, and yet it's often presented in a very uptight, stuffy manner. And there can be the sense that if you don't know something about this music you really don't belong there.
On top of that, I myself have actually been bored sitting through some classical concerts … and yet I love the music. So, I thought, if I can be bored during a concert what must other people think who are not familiar with this music at all?
Then I realized the great composers of the past were as Unstuffed as one can get. The movie "Amadeus" certainly gave people another view of Mozart. And for those who think it went to far, I only suggest reading some of the letters and poetry Mozart wrote to his sister and father. He definitely had a wild sense of humor!
Franz Liszt is the guy I took my cue from when I was developing Unstuffed. He was known to get up and talk to the audience during a performance (in between the pieces… not while he was playing!) He was kind of doing the Oprah-with-a-piano kind of thing. I first began doing Unstuffed performances about 15 years ago.
At that time, I'd come out and talk between the pieces of music and tell people about the music. Sort of like a lecture recital. That worked well … but I thought ...punch it up a notch. So I started telling a few jokes as well. And heck… now with the new millennium, I figure I'll just talk about anything that hits me during a show. (I'll be talking about everything from Unknown Cornish Customs, to the Hazards of Holiday Shopping at the upcoming show here.)
But... while we may have fun during a performance, I never disrespect the music. I never have or ever will compromise the music, or the greatness of these composers and their musical intentions.




Q. There is a Rock and Roll aesthetic to your live performances. Is rock and pop an influence of yours?
A. I listen to all kinds of music… everything from heavy metal, to jazz, to country; as well as the classic American songs of the 20's, 30's and 40's. There's a lot of great stuff there. Duke Ellington once said: "There are only two kinds of music … good and bad." I think that's true. Music will either move you or not. If it's good music it will move you.
I'm also aware that even people who love classical music have trouble with it at times. Rossini, the great Italian opera composer said of Wagner's music: "He has some beautiful moments, but some awful quarters of an hour." And Mark Twain once remarked of Wagner's music: "I've been told it's better than it sounds."
As a performer I'm very conscious of the fact that I want the audience to be moved, not tortured. And that they don't want to be lectured or talked down to.




Q. You've learned from some impressive figures in the world of piano. You studied under Adele Marcus at the Julliard School. She once said: "Never do anything to the music, let the music do something to you." Do you agree with that?
A. Absolutely. Every great teacher says a similar thing. It can be hard when you're a student to understand that concept. Paul Badura-Skoda, my teacher in Vienna, would also say the same type of thing … "you don't have to do anything". (I often felt like saying "If I don't need to do anything, why do I need to practice 10 hours a day!?")
But their point is well taken. Some music is so perfectly crafted, that if one simply follows the composer's intentions and guidelines, one will by default create something of beauty in their performance. By getting out of the way, and trusting the greatness of the music, both the performer and the audience can experience the true essence of the piece.




Q. What was Adele Marcus like? Was she always serious?
A. No, she was also a lot of fun! Very intense, but fun. Rumor has it she may have been one of the inspirations for the character in the movie "Madame Sousatzka" (where Shirley McClain plays a piano teacher).
Adele Marcus was the big teacher at Juilliard back in the 80's when I was there. And she didn't mince any words in her approach with students. Nor would she tolerate any lack of respect for the music … or for her. And she either liked a student, or they wouldn't be around for long. Luckily we got along very well. I got a huge kick out of her, and learned a lot from her.
She was very pleasant with me. She'd tell me to call her at home later that night after a lesson...and the lesson would start all over on the phone. Now, I was a struggling music student in New York at the time… without a phone of my own. I can remember calling her from pay phones (hoping I'd have enough change… not always sure how long we'd be on the phone.) If she was in an especially creative way I'd have to have a pocket full of change!
That's who I came to know: a generous inspiring teacher. But the year I went to study with her I had heard a story about her throwing a student's music out the window of her high-rise … and telling the student not to come back! Ouch! Just shows that while most people think the classical music world is all about refinement and proper behavior… nope … it can be a rough and tumble world as well!




Q. What kind of feedback do you get from audiences?
A. The biggest thing I hear from people who may not go to a lot of classical music concerts is: "I never thought I'd have so much fun at a classical recital". I think I'm most proud of people who take the time to write to me after listening to one of my cds, or after coming to a concert telling me how much it meant to them. I hope people will laugh a lot … maybe even cry some … and just be given a chance to hear some really great exciting music. I've done a lot of residencies in the past where I'd go spend a few days or a couple weeks in a community and do performances in different venues as well as going into schools. Seeing kids get excited about classical music means a lot to me.
The first thing I tell them is... "You are allowed to make noise at a classical recital". And then I teach them the word BRAVO. And we practice screaming it at the top of our lungs. (At this point the principal or school administrator is usually wondering if they made the right choice inviting me.) But in all honesty it's always a lot of fun; and I'll often get letters from entire classes of school kids saying how much they enjoyed it … that they didn't know all that stuff about those dead guys... and that they now want to take piano lessons. Very cool!
I'm also excited when I see men at the concerts who would rather be watching a game on TV (they tend to have that look on their faces… "How long is this going to take?"). When they come up to me after a concert, and say how much they were dreading being there, but how much they enjoyed it... that means a lot.




Q. You've got 3 solo cds out now. What do your fans have to say about them?
A. I get letters and emails from a number of people who have listened to one or more of my cds. They usually start out telling me what pieces they especially liked; sometimes what they didn't like; and sometimes what they think I should record next. A number of people have emailed telling me how wonderful it is to actually have a cd with some content in it. My cds don't just have liner notes… they're little booklets! And a lot of people have really enjoyed reading them.
I've also heard from a number of people who have used my cds while going through difficult times in their lives (sometimes medical, sometimes personal). And they tell me how much the cd helped them through those times. That means the world to me. We are bombarded with so much crap in our society, that I'm deeply touched to know I've been able to share with people some of this great music – and that it actually has impacted their lives in positive ways.




Q. Anything you'd like to add?




©2010 Unstuffed Productions, All rights reserved.